Welcome Dealers...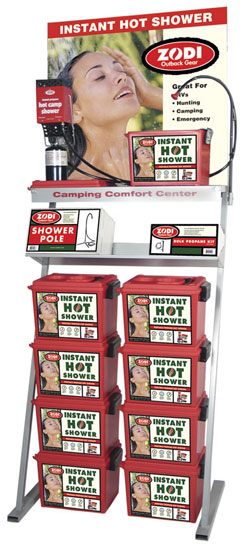 Everything you need to be a Zodi dealer is linked to this page.
Existing dealers can skip and go to the bottom of this page where spec sheets and images for each product are ready for quick download for catalog and internet placement.
If you are interested in becoming a new Zodi dealer please complete the New Dealer information below and download the Dealer Kit (also found below.) Dealer support is available 9am-4pm Pacific Time at 800-589-2849
New Dealers - Please complete this form for more information
Thank you for your interest in retailing the Zodi products. Our innovative designs backed with our rugged construction and professional grade performance make our Camping Comfort Products a hot selling line with the hunting, camping, RV and marine markets. Our consumer driven advertising and our in-store merchandising racks make re-selling Zodi products a profitable choice for you.
Please complete the following information about your store:
The Dealer Kit pdf has everything you need to get set up as a Zodi Retailer. You will get an introduction letter, a credit application, and a copy of our terms and conditions including payment and drop ship procedures. Just click on the click the link below, download, print and complete the credit application and fax it back to 800-861-8228 -- that's it! Your first order can ship today!
PDF NEW DEALER KIT (Click here to download)
Zodi will begin offering drop shipping to our wholesale dealers starting January 1, 2005. This option will permit fast shipment of Zodi product to end customers.
Step 1 - Drop ship is only available if billed to dealer credit card - net 30 is not available for drop ship program. Please contact Zodi with the credit card that you want all drop ship orders payment to be applied against.
Step 2 - Fax your drop ship order to 800-861-8228 or email order to dropship@zodi.com Your order to Zodi must include complete customer shipping information. Zodi will not include any invoice with your customer shipment unless you include an invoice with your fax or email order.
Step 3 - Zodi will bill dealer wholesale price for item shipped plus a flat $5.00 drop ship fee per shipping address. Multiple orders on same day with same "ship to" address are billed $5 total. Zodi will also invoice dealer exact shipping rates as posted in ups.com or fedex.com.
Step 4 - A separate invoice will be mailed to the dealer from Zodi showing each drop ship order - this invoice will also be stamped PAID as all drop ship orders are prepaid.
This is a great program to make retailing the Zodi brand to your catalog and on-line customers 100% hassle free for you. The "test" for this program was an INCREDIBLE SUCCESS!!! And to make it even easier Zodi has created online Dealer Spec Sheets for each of our products, including bullet feature text copy and hi-res and low-res images for immediate placement.
All dropship orders must be prepaid with dealer credit card. Net 30 terms do not apply from drop-shipments. Drop shipments are limited to USA addresses only. Flat UPS charges as listed at UPS.com plus a $5.00 per address fee will apply. All invoices for drop shipments are calculated at posted Zodi wholesale price list. Drop ship is not available with other discounts or promotions. For complete drop shipment procedures see factory website under dealer drop ship.
Call Zodi Dealer Services at Zodi today at 800-589-2849 to get set up as a drop ship dealer.
Zodi Product Spec Pages, Copy and Images
Everything you ever wanted to know about any Zodi product is listed on the product spec pages. Images, bullet features, text copy, bar codes, weight, carton quantity, label sizes, and more is all conveniently located on the Product Spec Link. Just click on the item number to go to that product spec page. Note - Item numbers marked with a star * are top sellers.
To help you make the best decision on which products to stock - we have prepared a product comparison page - the product comparison page quickly shows the key benefits between our products.
Zodi Contact Info... Phone - Fax - Email - Mailing Address
U.S.A. Ordering & Customer Service

| | |
| --- | --- |
| USA Phone | |
| USA 24 hr fax | |
Canada Customer Service

| | |
| --- | --- |
| Canada Phone | |
| USA 24 hr fax | |
International Ordering and Customer Service

| | |
| --- | --- |
| USA Phone | |
| USA 24 hr fax | |
Mailing Address

Zodi Outback Gear

6980 South 400 West

Midvale UT 84047

---
Dealer Quick Links