Pro Vent 70 & Pro Combo

Price: $2,899.90

SKU: 5990 & 5190

Got Questions?

1-800-589-2849
Description
About this product
The Hot Vent Pro 70™ features up to 70,000 BTUs of safe heat. This unit is in use worldwide, heating all types of enclosures and tents. Designed with positive pressure features, the Hot Vent Pro 70™ keeps carbon monoxide outside and the clean safe heat inside. (Propane tank not included.) Made in U.S.A.
FEATURES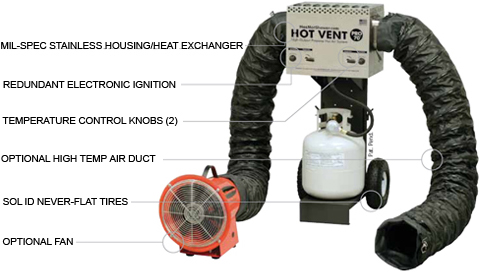 BENEFITS
Rugged heater is built from stainless steel
Safe 250ºF forced heat in seconds
Clean safe heat without dangerous fumes
Connects to any 8-12" blower / air duct system (Optional)
Compact size - stores easily in fire truck storage compartment
Sets up in seconds
Rugged steel cart with solid tires for easy transport around site
Made in U.S.A
Accessories
instruction - videos and more
If you are looking for product comparison page, click here.
You may also consider these other Zodi Models:

Pro 70 Shower

#5150

Pro 100 Shower

#5170