Pro 70 Shower

Price: $1,999.95

SKU: 5150

Got Questions?

1-800-589-2849
Description
About this product

The stainless steel Hot Tap Pro 70™ features up to 70,000 BTUs of instant heat and is our most popular HAZMAT portable hot shower and water heater systems. High volume hot water flows in seconds. One showerhead standard with the quick-disconnect fitting for the optional second showerhead. Includes the rugged transport cart featuring solid tires that never go flat. Compact for easy storage. (Propane tank not included.) Made in U.S.A.

FEATURES




BENEFITS

Easy-to-use control knob adjusts water temperature in seconds
Tough mil-spec stainless steel construction
Dual push-button electronic ignitors (requires 2 AA batteries)
Extra-long shower hose with multi-pattern showerhead
Industrial-grade brass garden-hose connector for cold water
Self-contained design requires no electric power
Includes rugged steel cart with never-flat tires for easy manueverability
Optional quick connect fitting for second showerhead

Compact size - stores easily in fire truck equipment compartment
Made in U.S.A.

Accessories you may also need...
Accessories
instruction - videos and more
If you are looking for product comparison page, click here.
You may also consider this other Zodi Model: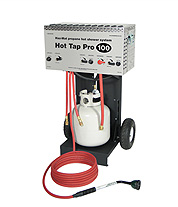 Pro 100 Shower
#5170