Hot Tap HP Shower

Price: $279.95

SKU: 6125

Got Questions?

1-800-589-2849
Description
About this product

The rugged all-steel construction of the High Performance Instant Hot Tap HP™ makes it perfect for all-season use. This portable double-burner hot shower system heats unlimited water on demand.

Features convenient matchless push-button ignition and includes a sturdy 4-gallon multi-purpose storage case, the Zodi Hot Tap HP is the most rugged self contained, high-output instant hot shower ever! A complete system, including powerful battery-operated pump that draws water from any water source. (Propane tanks & 4 D-cell batteries not included.)

FEATURES




BENEFITS

Industrial-grade for extra durability & long service life
Double-burner design for High Performance 4 season use
Adjust water temperature up to 100°F with gas valves
Easy to use – just submerge pump in water & ignite heater
8-ft flexible shower hose with water-saving showerhead
Matchless push-button ignition for extra convenience
Multi-use storage case is compact for easy transport
4-gallon case holds enough water for a 10 minute shower
Powerful pump with debris screen for great water pressure
Uses convenient 16.4 oz propane cylinders (not included)
Pump designed for use with any water source, lake,etc
Non electronic heater for hassle free performance
Higher Performance expands season into Spring & Fall

Accessories you may also need...
Accessories
instruction - videos and more
If you are looking for product comparison page, click here.
You may also consider these other Zodi Models: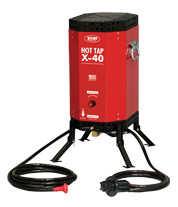 X-40 Hot Tap Shower
#5146